Broken Screen - Fix Your iPhone
Broken or cracked screens account for about 70% of all iPhone & Android device repairs. The reasons for this vary from "I ran over my iphone" to "my three year old broke it". While these activities are not recommended they have all caused cracked screens, and can be repaired.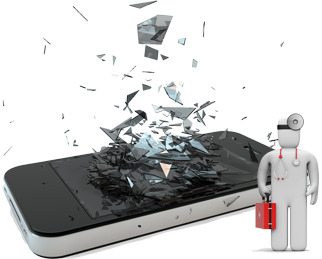 Grade "A" iPhone, iPad, & Android Parts
iPhoneDoctor is the source for the highest satisfaction iphone, ipad, ipod and android repairs in the Waco, Texas. Our technicians are trained and certified to work on everything from cracked screens to physical damage to your device. Our repairs come with a 60 day limited warranty so you can feel secure that once your cracked screen is fixed that it has been properly restored in your device. We use only grade "A" parts to repair your phone.
Many times cracked screens on your iPhone can be repaired while you wait and almost all repairs can be accomplished in the same business day.
If you have a cracked screen and want your iphone, ipad or ipod restored to it's former glory then give us a call at 254-300-9916 or schedule a convenient appointment online.
We have experienced i-device repair technicians. Why risk damaging your phone elsewhere when we can repair your phone with a 60 day warranty. Don't settle for second best. Choose iPhoneDoctor of Waco.